Brief introduction of high-power ultrasonic ranging module transducer
Views:0 Author:Site Editor Publish Time: 2020-10-14 Origin:Site
Product Introduction
This URM06 ultrasonic module distance measuring sensor is designed by DFRobot based on senscomp's 6500 ultrasonic electrostatic transducer, with a measuring distance of up to 10 meters. It is the ultrasonic sensor with the longest measurement distance, the smallest angle and the highest measurement accuracy in the same price. Its ultrasonic detection angle is only 15°, and most ultrasonic distance sensors are 60°-90°, which can improve the angle resolution of ultrasonic measurement and is the first choice for barrier navigation solutions in applications such as robots. Concise design, small shape, suitable for narrow installation space,which can provide a wide detection range,it has a sturdy PVC shell, can reach a certain anti-splash standard, and its 35 mm diameter thread is convenient for installation and fixation. The generated sound waves will be combined with continuously changing gains, real-time waveform analysis, and real-time noise suppression algorithms to produce actual noise-free distance readings for most users.
For specific selection, please refer to our ultrasonic series selection guide.
Tips: The ultrasonic sensor emits ultrasonic pulses, and the distance from the sensor to the target object is calculated by the time the ultrasonic pulses reach the object and return to the sensor.ultrasonic proximity sensor is widely used to detect displacement, thickness, distance, liquid level, material level and transparent objects.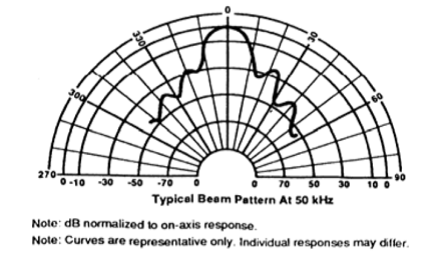 Technical specifications
Working power supply: 6V-12V
Working current: Normal current 16mA, instant current when sending 2A
Working temperature: -10℃~+70℃
Interface mode: RS485
Working frequency: 49.5KHZ. Probe direction angle 15° (-6dB)
Measuring range: 20 cm to 10 meters
Data return time: 50ms (5~6m)
Module size: the maximum size of the bell mouth is 50mm, the length is 43mm, and the installation thread is 35mm
Module weight: 50g